This may not be a phrase you hear often but I love grocery shopping.
I especially enjoy 'checking-out' (no pun intended) when new stores open to see what they have to offer.
Last week I took a trip to the new Nolan Hill Sobeys in Calgary during their Grand Opening weekend. The store is just 10 minutes from where I live so it's extremely convenient.
There was definitely a buzz in the air when I arrived and for good reason!From my first step in I knew I was going to be spending some serious time in the store. At first sight, it was visually very appealing – take a look at the amazing peppers display in the produce market section!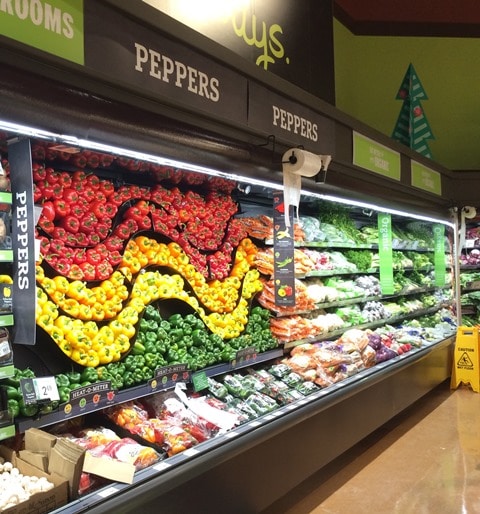 One great find in this section were Medjool Dates! Not an easy ingredient to find sometimes but it was an ingredient I was looking for when I arrived at the store and there it was in the produce section.
I definitely took my sweet time on this visit. After I made my way through the produce section, I happened upon the Cheese & Deli department. This turned out to be one of my favourite sections of the store. The deli had an amazing selection of meats where I picked up freshly sliced prosciutto to use with the dates I'd grabbed for an appetizer recipe I was going to create later that night.
Next, I made my way on over to the cheese aisle where I was able to sample some pretty delectable Parmigiano Reggiano straight from this huge wheel of cheese. Pretty sure I wish I could bring that wheel of Parmigiano Reggiano home with me!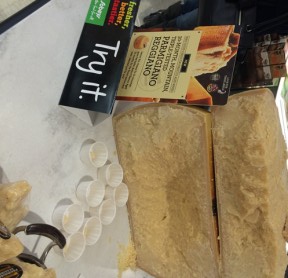 The fresh seafood counter was next and again, I was really impressed by the selection. One reason this was a favourite section of mine was the new parchment-style bags, the 'Seafood Steamer,' they offer with flavoured butter pallets which you can add – hello, garlic & parsley or lemon & dill, yum! Then you take them home, bake in the oven and voila – an easy, delicious and affordable dinner.
I am not kidding when I say I may have been in the store for over an hour – there were so many new features to discover.
A feature I'm always looking for at grocery stores is the 'take it and go' section and this Sobeys did not disappoint. My favourite part of the 'Our Kitchen' area was the ready to eat mains, sides & salads – I even had a taste of the Roasted Root Vegetable side and it was delightful. Look at this beautiful selection!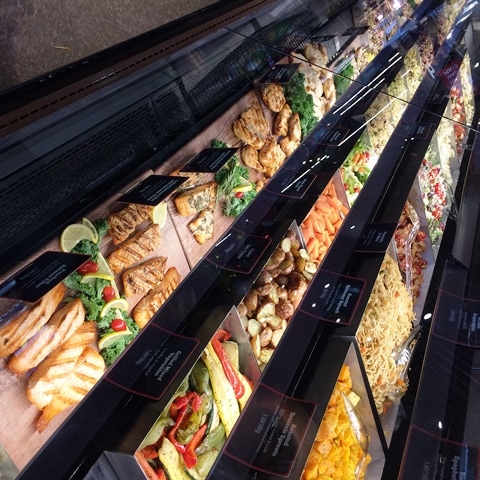 I know if I was in a hurry for dinner I could definitely stop here on my way home and know that there is a variety of freshly prepared meal options to choose from. PLUS if I'm in the pizza mood they had this stone oven where they'll cook your pizza while you shop!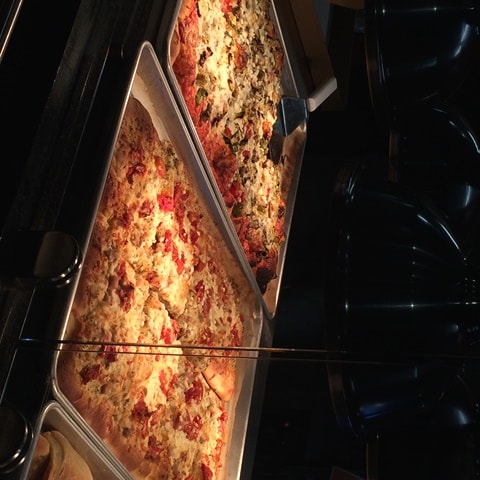 I have to tell you about one more section that was a winner for me – the 'Natural Source' area. There is a ton of variety of products from natural sodas to trail mixes to my favourite snacks including these roasted chickpeas that come in so many delish flavours!

Overall the store was pretty busy and buzzing for the grand opening but I have to say the Staff was excellent! I was able to find help easily and get pointed in the right direction.
I must also mention the Community Room which I noticed upon leaving the store. There is a beautiful kitchen space which can be rented out for events and I will definitely be keeping it in mind for the future.

Thanks for coming along with me on my adventure to the new Sobeys in Nolan Hill. If you live nearby, maybe I'll see you there in the future!
Until the next cooking adventure,
Jess
Disclosure: The author has received consideration from Sobeys' media partners in exchange for this content. Sobeys has not reviewed these claims and is not responsible for the content.