After cooking, eating and cleaning up from dinner one night this past week I proceeded to get out another set of ingredients and put together a pizza for the YYC Pizza Week Calgary Food Blogger Challenge. I had actually been cooking and eating already all day at a photoshoot (stay tuned for some fabulous recipes and photos!) so I was totally in the 'cooking zone.'
You see, the day before I made my way to The Italian Store here in Calgary to pickup ingredients and pizza dough for the YYC Pizza Week Food Blogger Challenge. As a part of the challenge, we had to choose two of the following toppings to feature on our pizza – Fig Spread, Housemade pesto, Ricotta or Pitted assorted olives. I was immediately drawn to the housemade pesto and ricotta.
Inspired by the autumn colours and flavours of the season, this cozy pizza creation celebrates my favourite time of year. Starting with a pesto base then topped with roasted vegetables of zucchini, mushrooms, red reppers, red onion and finished off with creamy ricotta and a nutty crunch from the toasted pine nuts – it's the perfect pizza to enjoy by the fire with friends and family on cool autumn evenings.
Prep Time: 30 minutes (or up to 4.5 hours if making your own pizza dough)
Equipment: Electric mixer (if you're making your own pizza dough)
Servings: 4
Ingredients:
1 pre-made pizza dough (or make your own)
Cook's Note: One of my favourite pizza dough recipes that I use regularly is from Style at Home Magazine. The dough has to sit in the fridge for 4 hours so just make sure you give yourself enough time. 
1 tbsp olive oil
1/2 Zucchini, sliced thinly
1/2 red pepper, sliced thinly
3 mushrooms, sliced thinly
1/2 medium red onion, sliced thinly
3/4 cup pesto
1/4 tsp salt
1/4 tsp pepper
1 cup fresh ricotta (may also be called 'ricotta fresca' in the deli aisle)
¼ cup pine nuts
Slice the zucchini, red pepper, mushrooms and red onion.

Heat 1 tbsp olive oil in a frying pan on medium heat. Toss in the zucchini, red pepper, mushrooms and red onion plus the salt and pepper. Sauté for 8-10 minutes, stirring often – this process helps release the water from the vegetables before adding them to the pizza. Once you take the vegetables off the heat, stir in 2 tbsp of the pesto sauce and set aside.
Next, heat the oven to 425F and then roll out the pizza dough. Put a bit of cornmeal on a cookie sheet, place your pizza dough on the pan and then dress your pizza.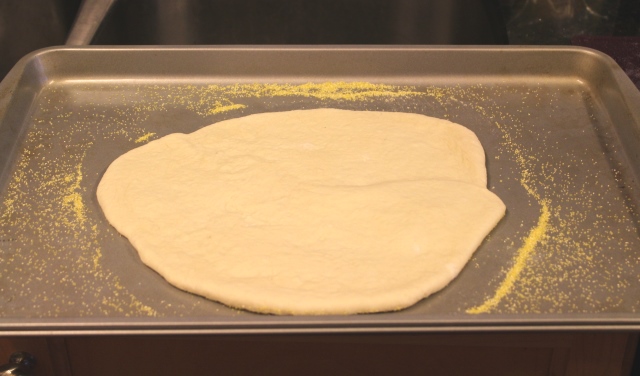 Use the pesto as the base, as much or little as you want spread out onto the dough. Then, spread out the vegetables and top with ricotta and pine nuts.
Bake the pizza for 8-12 minutes (depending on your oven) until crust is golden.
Cook's Note: It will take different ovens more or less time, just depending so keep an eye on the pizza. Also, if you don't think your pizza is done by 12 minutes keep it in the oven a couple more minutes but watch it closely.
Cook's Note: If you have a pizza stone, follow the same instructions but instead place the dough on the back of a cookie sheet and let the pizza stone warm-up in the oven as it warms up. Then the cornmeal will help the pizza slide off the cookie sheet onto the pizza stone when your oven is ready to cook the pizza.
If you LOVE this pizza please head on over and VOTE for me in the Food Blogger Challenge! CLICK HERE to Vote!
Until the next cooking adventure,
Jess