I'm officially on a frittata kick and this Swiss Chard, Goat Cheese and Leek Frittata is one of my current favourites!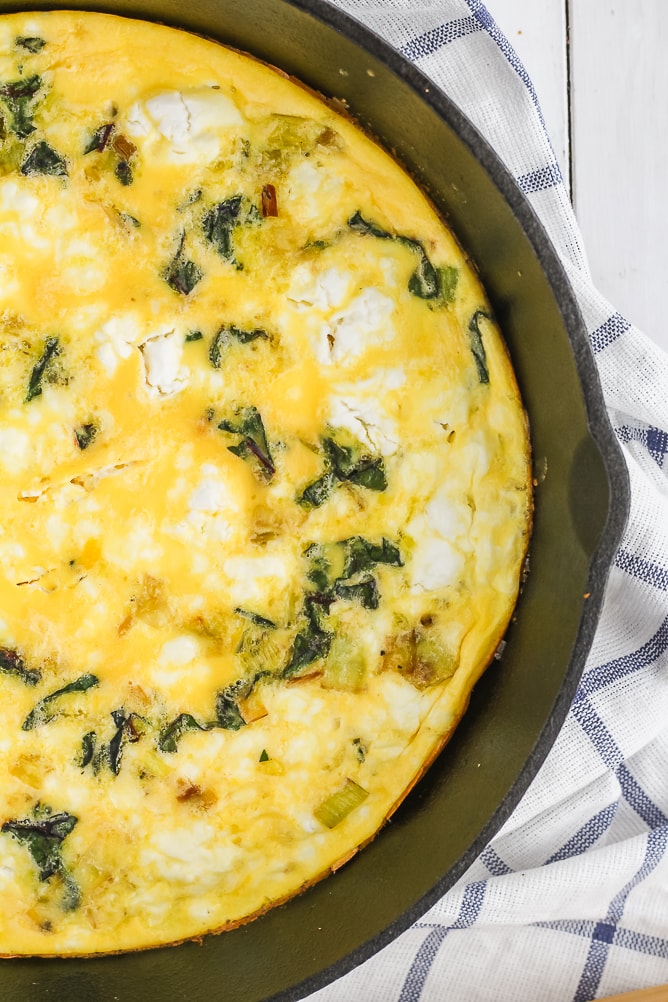 I re-discovered my love for frittatas because of their versatility; the ingredient variations are endless!
Whether for breakfast, lunch or dinner, this Swiss Chard, Goat Cheese and Leek Frittata is sure to become a go-to easy meal.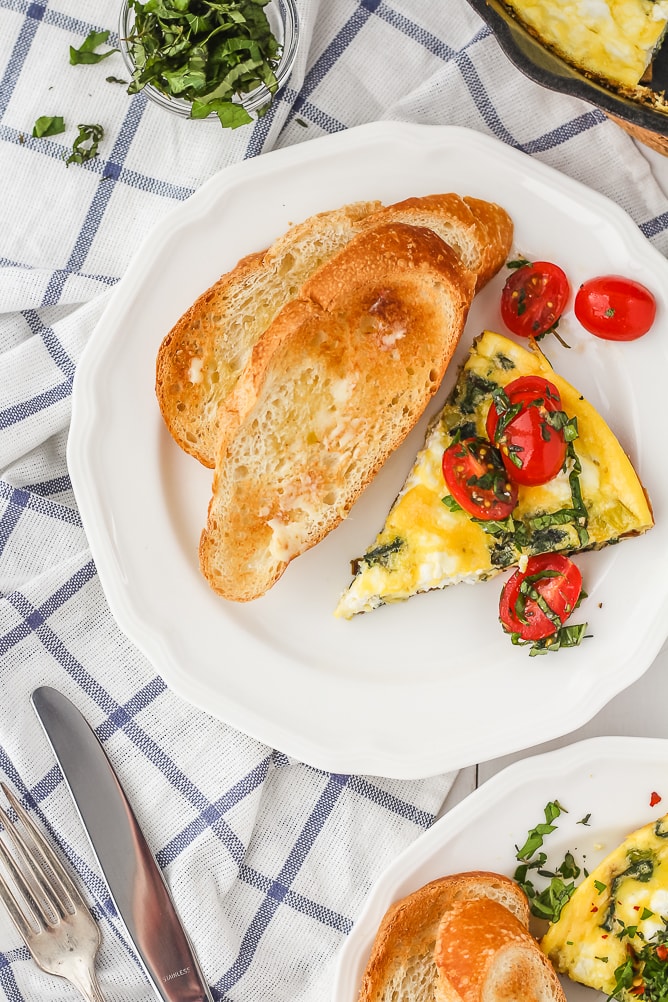 Especially in the Winter months, hearty greens like the swiss chard in this frittata take centre stage. Not only is swiss chard in season, these greens keep their flavour when cooked.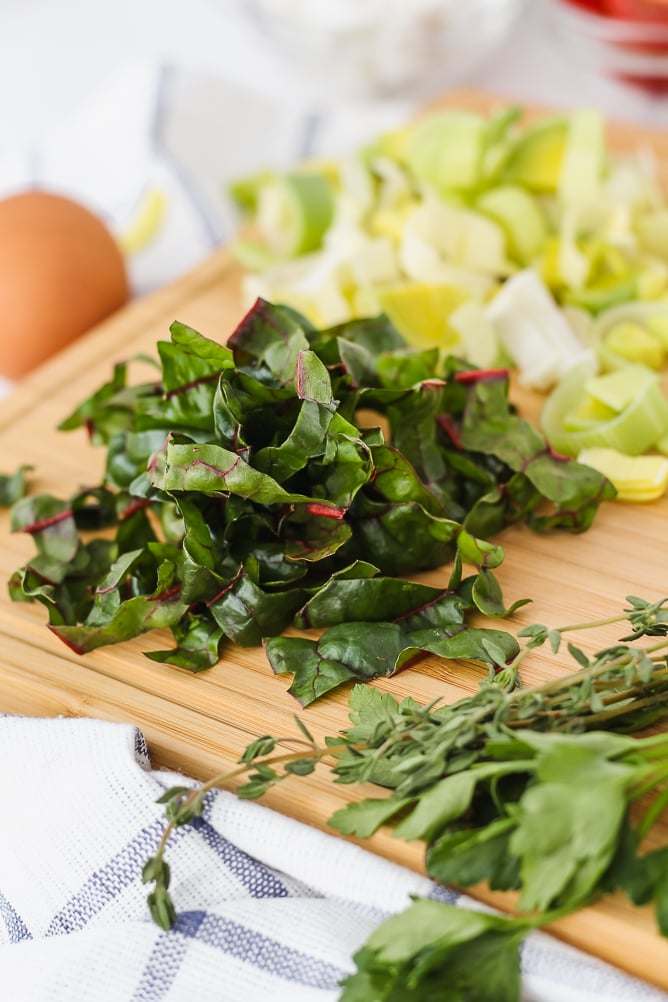 I also LOVE cooking with leeks during this time of year; they bring so much flavour when sautéed.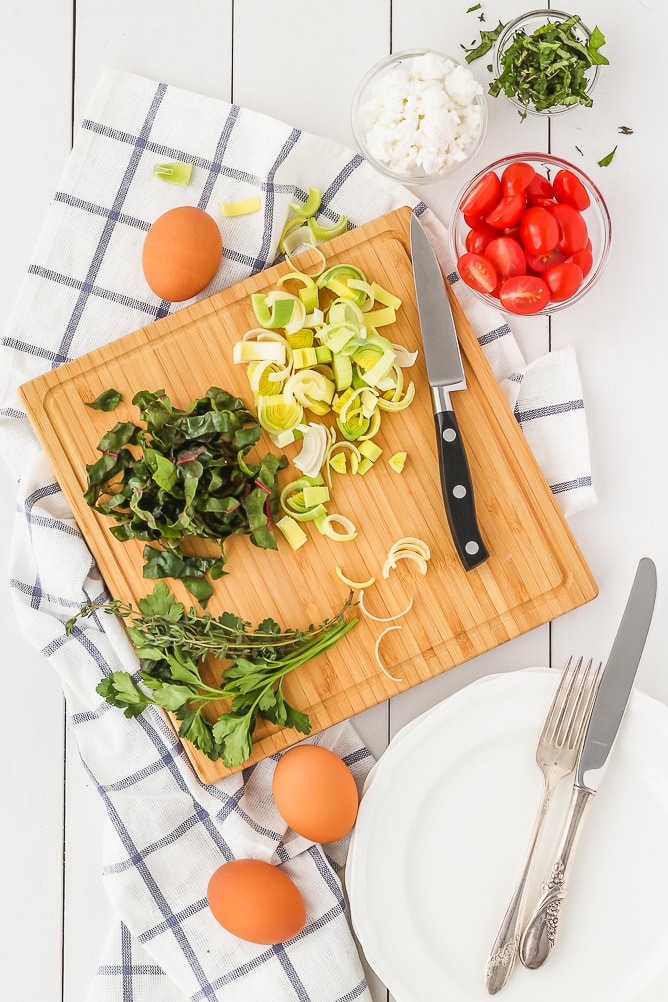 It's easy to mix up the toppings too like adding fresh tomatoes or a medley of herbs.
So with all of these delicious greens and creamy goat cheese, you can bet this frittata packs a flavour punch!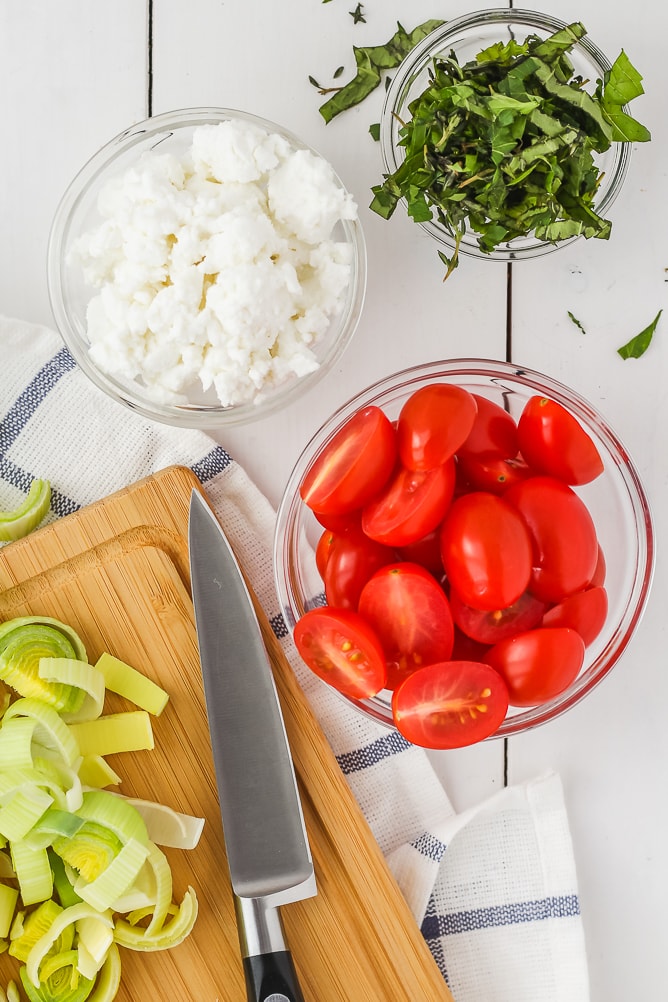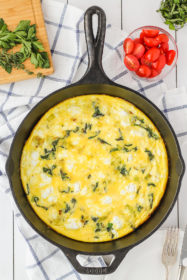 Swiss Chard, Goat Cheese & Leek Frittata
With hearty greens and creamy goat cheese, this frittata is perfect for the cooler months and when in need of an easy breakfast, brunch or dinner!
Print
Ingredients
6

eggs

1/4

cup

whole milk

1

cup

crumbled goat cheese

2

tbsp

extra virgin olive oil

1

large leek, white and light green parts only, halved and chopped

1

cup

chopped swiss chard (pack into the cup)

stems discarded, only leaves chopped

1

tsp

kosher or sea salt

ground pepper

red pepper flakes

Optional
Toppings
fresh tomatoes chopped in half with a drizzle of olive oil and pinch of salt and pepper

fresh herbs like thyme, basil and parsley
Instructions
Whisk eggs and whole milk until combined then stir in 1/2 cup crumbled goat cheese. Set aside.

In a 10 inch oven-proof skillet (cast iron works well), warm 1 tbsp oil over medium heat and add the leeks. Cook for about 5-7 minutes, until the leeks become soft.

Next, stir in the swiss chard, salt and a few turns of ground pepper and cook for about 2-3 minutes until the leaves start to wilt.

Turn the heat to medium-low and stir in 1 tbsp oil to combine well. Pour in the egg mixture and sprinkle with the remaining 1/2 cup of crumbled goat cheese and optional pinch of red pepper flakes.

Cook over the medium-low heat until the edges start to set, about 4-5 minutes.

Then, transfer the skillet to the middle rack of the oven and cook for 8-10 minutes, until the edges are golden brown and the eggs are set.

Cool in the pan for about 5 minutes, cut into slices and then serve!

Top with fresh tomatoes and/or a medley of fresh herbs and serve with toast. Frittata leftovers can be stored in the fridge for up to 3 days.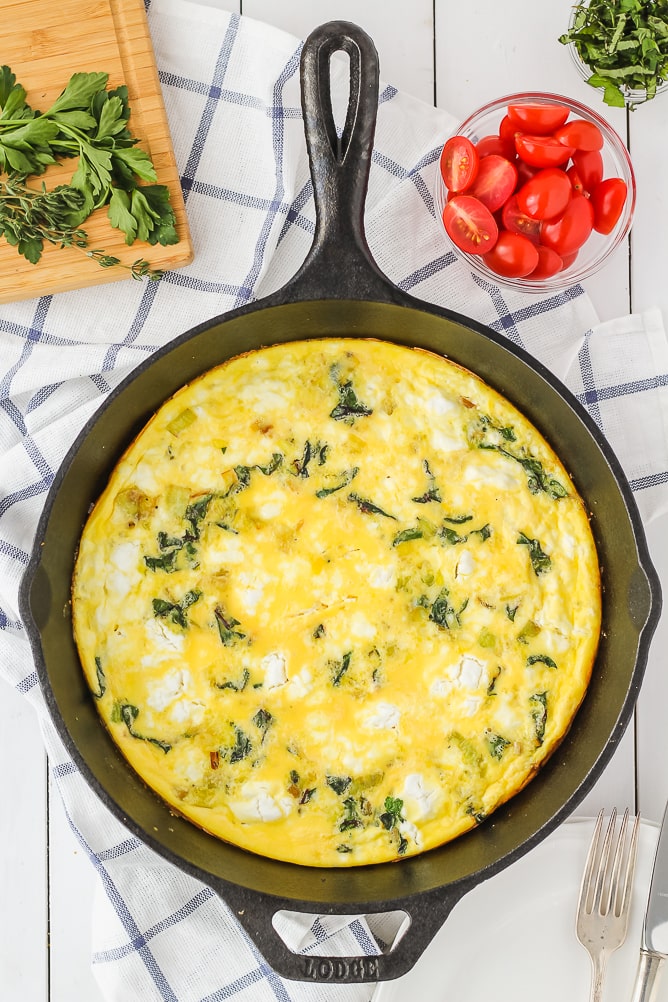 This dish is perfect for breakfast, lunch or dinner! And to make it a complete meal you could add a simple green salad and serve with crusty bread.

Depending on your mood or tastes, you can really make this dish your own. If you want to substitute ingredients, just replace 1 cup of either the swiss chard or leeks for 1 cup of another vegetables like kale, broccoli or mushrooms. For the cheese, a white cheddar would be lovely as well!

So, save this recipe as an easy and quick meatless meal for any meal, anytime.
And, if you are loving this recipe, check out my Savoury Turkey Breakfast Sausage Egg Muffins too!
Until the next cooking adventure,
Jess