What should I make for dinner tonight?! I've got you covered with these 10 easy dinner recipes!
Each recipe is easy to prep and uses simple ingredients.
Let's get cooking a delicious dinner in no time!
Do you ever open the fridge and just STARE for what seems like an eternity, wondering what to make for dinner?
I know what you might think, how as a food blogger could that possibly happen but it happens to me too!
So, I've rounded up my top 10 easy dinner recipes to help you make an easy meal any night.
What is the easiest thing to cook for dinner?
Chicken: Chicken is one of the easiest proteins to cook for dinner. It's so versatile and takes on flavour really easily.
Tacos: I love making tacos because they are so straightforward! Choose a protein, chop up some fresh toppings and use soft or hard tacos and you're set.
One Pan Dishes: There is nothing better than a one-pan dinner. Generally you need to do a little bit of prep like chopping vegetables and searing the protein for a bit more flavour. However, everything then goes into one pan to bake and VOILA, dinner is served!
Recipes using pantry ingredients: Recipes using canned goods like beans or tomatoes plus pantry spices are a perfect easy dinner. The dish may seem simple but just add a few fresh touches from the fridge to round things out.
Breakfast for dinner: Don't knock it until you've tried it, put those eggs to good use for dinner – trust me you'll be coming back for breakfast for dinner again!
Soup: A classic one pot soup is everything you need for an easy dinner.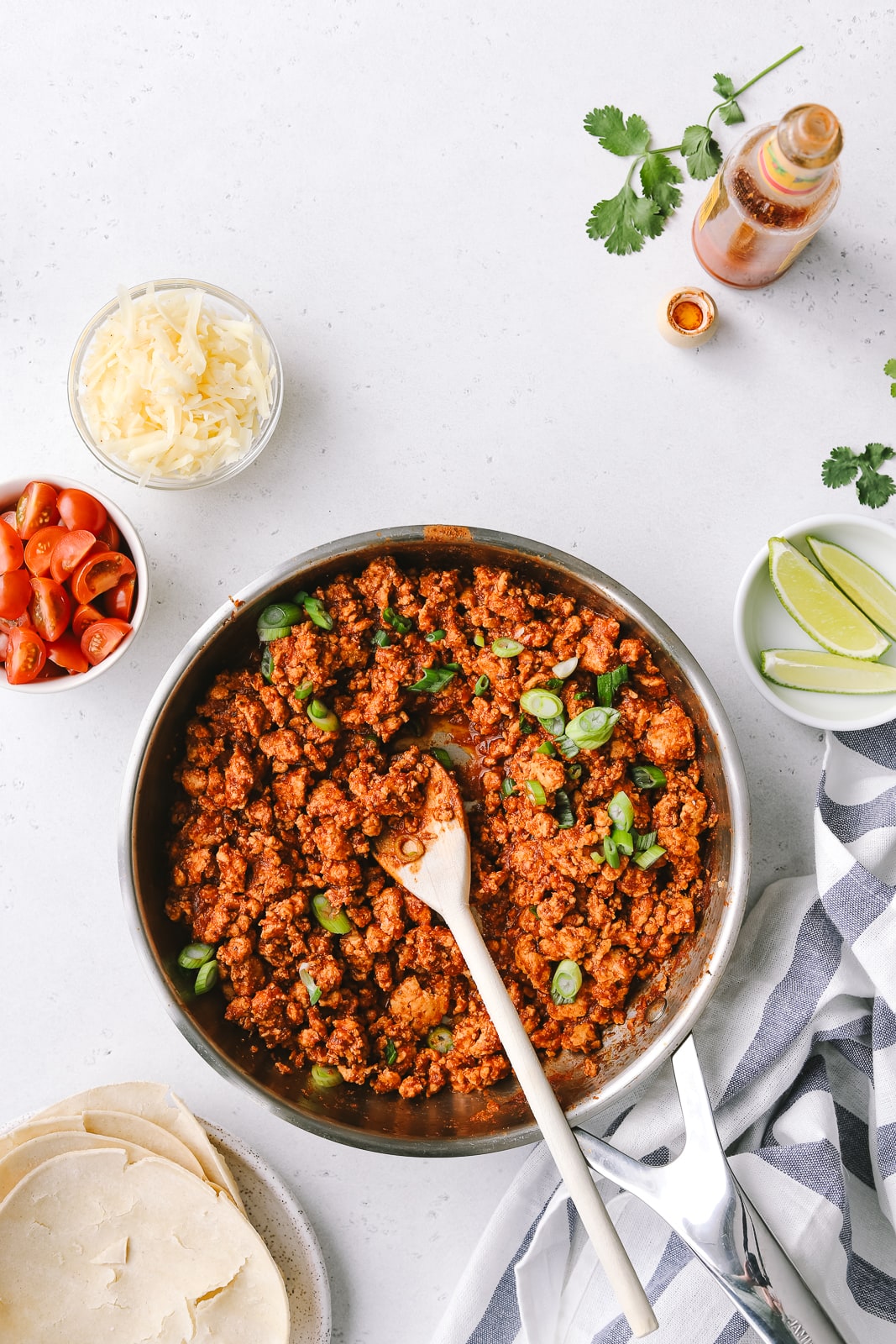 Here are my favourite easy dinner recipes from the blog:
Easy Healthy Baked Lemon Chicken: If you are running out of chicken recipe ideas for dinner, try this easy healthy baked lemon chicken recipe with the most addictive lemon sauce.
One Pan Baked Chicken with Tomatoes & Oregano: Another chicken recipe to help mix things up with simple, flavourful ingredients.
Pesto Baked Chicken: A family favourite, use your favourite pesto sauce to bring this chicken dish together in one pan.
Simple & Easy Turkey Tacos: You cannot go wrong with these turkey tacos made with a homemade seasoning and fresh toppings!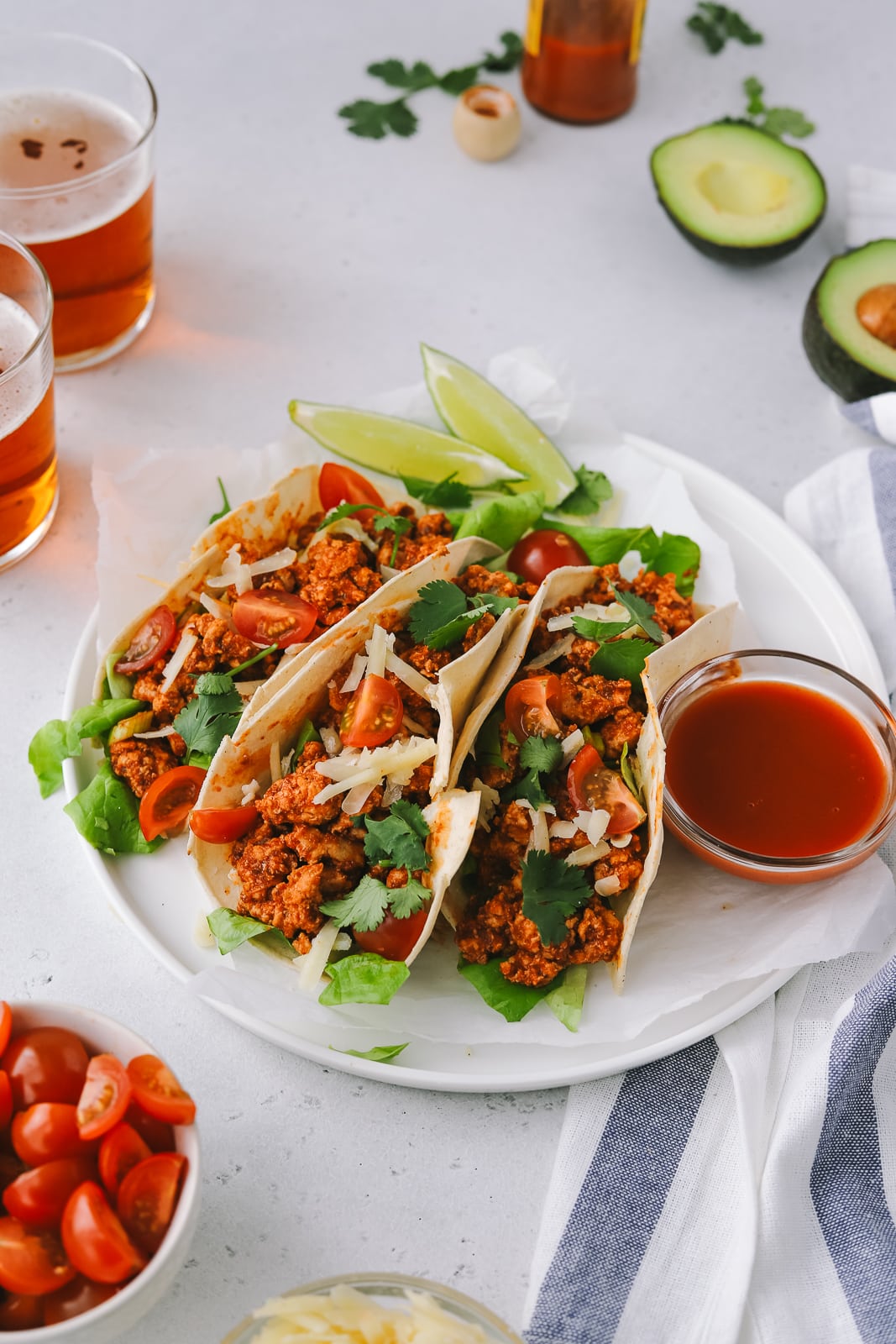 Quick White Beans with Tomatoes and Kale: A simple comfort food favourite, this recipe uses pantry ingredients and fresh kale for a warming bowl made for any Fall or Winter night.
Healthyish Broccoli Cheddar Soup: Made in one pot, this soup will take care of all your cravings BUT made healthier by using beans (instead of cream) to make this soup creamy!
Easy Pea Soup: Using frozen peas, this soup comes together in no time.
Easy Breakfast Tacos: Just scramble some eggs and add your favourite fresh toppings to make these tacos for dinner.
Shakshuka (Poached Eggs in Tomato Sauce): A comforting one pan dish with eggs poached in a simmering tomato sauce.
Peanut Chicken Power Bowls: Healthy and flavourful, these bowls are packed full of whole grains, vegetables & protein with a simple & easy peanut sauce! Just use a cooked rotisserie chicken from the grocery store to save on time!
I hope you can find a new easy dinner recipe that works for you.
Let me know in the comments below which recipe you're going to try first!
Until the next cooking adventure,
Jess