Hello Summer! I am so here for what's in season during July because the produce is bountiful this time of year!

We had so much sunshine for the long weekend that it inspired cooking with many ingredients from our garden and the farmer's market.
So, come along to see what recipes we've made lately along with our Ontario travel adventures and what's in season for this month; I have A LOT to share with you!
In June we travelled to Prince Edward County in Ontario for my brother's wedding. The sun was out every day of our trip where we enjoyed delicious food, wine tasting and of course the wedding festivities!

If you ever travel to Ontario I highly recommend the Prince Edward County region; not only for all of the amazing wine, beer, ciders and food but the scenery is gorgeous. Nearby you can find Sandbanks Provincial Park with some of the most beautiful, bright sand; take a paddle on some of the smaller lakes; check out one of the local golf courses or just cruise all of the local shops in Picton, Bloomfield or Wellington. Plus there are so many wonderful AirBnb's to stay in too!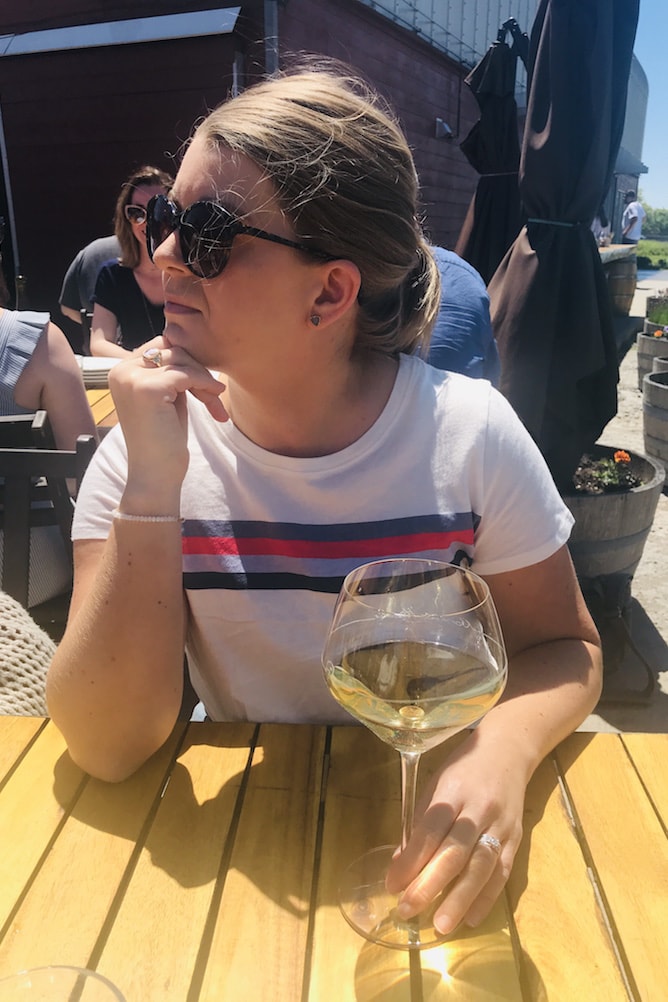 After our Ontario adventures the rest of the month we spent cooking at home and enjoying some time around Calgary. I've made some recipes from the Well & Good cookbook that have been very enjoyable like this Jalapeno Vegan Burrito recipe. We made this Cashew Crunch Shredded Brussels Sprouts Salad from Ambitious Kitchen too and I also have this peach salad on my list for the summer.
Also on my list for the summer is using many more herbs to amp up salads, main dishes and cocktails!

I recently made a Peach Basil Wine Spritzer recipe in partnership with Moscow Muled over on Instagram! A very refreshing combination of flavours and extremely easy to make with just peaches, basil, white wine & sparkling water!

I think it will be my patio sip of the summer especially since my Moscow Muled mugs keep it super cool.
We had dinner with friends one weekend; they made this delicious Crispy Bacon Pasta Salad with Fresh Herbs from How Sweet Eats and we brought the ribs and my Berry Rhubarb Kombucha Sangria which was a hit! Here's to more of those 'shared dinner' evenings where you gather with everyone contributing to the meal; sort of like a potluck but a much smaller group and a bit more planned out. And, we finished the evening with bocce ball – LOVED it!
Now that we've hit July we are getting all of the wonderful summer fruit I've been waiting for in our YYC Growers box. This week we received cherries, blueberries and raspberries; and the raspberries were sooooo good they legit tasted like candy they were so sweet!
So given we're into an amazing season for fresh produce, here's What's In Season for July.

Apricots: Easy Apricot Jam
Berries: Summer Fruit with Whipped Cream
Peaches: Peach Basil Wine Spritzer
Rhubarb: Rhubarb Cake
Strawberries: Berry Rhubarb Kombucha Sangria
Tomatoes: Heirloom Tomatoes, Mozzarella & Sourdough Bread Board
I hope you're enjoying the sweet, sweet summertime!
Until the next cooking adventure,
Jess