Who else is ready for Springtime?!
I'm so ready for warmer temperatures and cooking some of my favourite Spring recipes.
While it's a bit of a transition month for seasonal ingredients, I still have you covered with inspiration for recipes to make in March!
Is Spring in the air where you are? We are having the most beautiful week of March weather which makes me want to make lighter, fresh meals.
Two of my go-to cookbooks for cooking seasonally are: Food 52's A New Way to Dinner and Date Night In.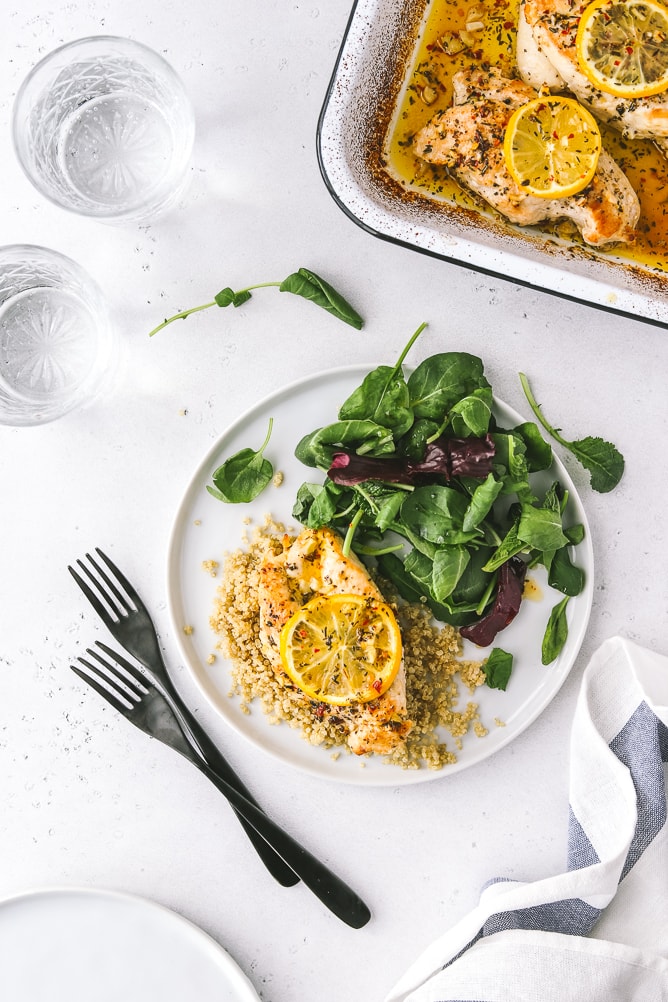 I love these books because they have a section for each season which brings constant inspiration in the kitchen. Plus, both books give you full menu options OR you can just make one dish from the list. It's really up to you!
We've also been making my Easy & Healthy Baked Lemon Chicken on repeat lately. The lemon brings such a fresh flavour and this dish goes so well with delicious greens! You could even meal-prep the chicken and then use in salads for the week. So many options!
And speaking of salads we still have my Citrus Chopped Salad in our heavy dinner rotation; citrus season is STILL on so if you haven't enjoyed enough yet add some to your basket next time you're at the market.
What else is there to make this month? Here are some of my favourite recipes to make in March:
Carrots – Peanut Chicken Power Bowls
Citrus – Easy Healthy Baked Lemon Chicken
Greens – The Best Green Tropical Smoothie
Mushrooms – Mushroom Tart
Peas – Easy Pea Soup
Peppers – Shakshuka (Poached Eggs in Tomato Sauce)
And if you are looking for a delicious baking project for the weekend, my Saskatoon Berry Lemon Scones are THE most popular on the blog! If you don't have access to Saskatoon berries, try blueberries – they will be just as delicious.
I look forward to see what you're cooking this Spring!
Until the next cooking adventure.
Jess