I always love the opportunity to connect with others over food and I was fortunate to attend the University of Calgary's 'Feeding 9 Billion people' event on March 14th. The goal of the event was to 'exchange ideas around global food security' over a 'thoughtfully sourced dinner.'
Upon arrival, I noticed there were a couple of posters up around the reception area with conversation starters. I connected with two other attendees and we chatted about our various food memories. I shared a bit of information about my food blog and why I love to cook. We also talked about some of our favourite restaurants in Calgary and our favourite local food products. It was a great opportunity to open up a dialogue that would continue at our tables the rest of the evening.
As we entered the main event room I saw beautiful light's strung up above the tables. The atmosphere was friendly and welcoming, just as it would feel when you enter a dinner party at a friends house.
Each table was set beautifully, incorporating food as the centrepieces (loved this idea!) It was like a beautiful, gigantic dinner party come-to-life.
The menu for the evening was not just about food but about the conversation. We were told that at each of our tables some of the guests were the conversation 'provocateurs' who would guide us through discussions during the event.
The food was served family style and was delicious as it was beautiful. I loved that the food was served family style as it added to the theme of the evening which was coming together for conversation and good food, just like a family would at Sunday-night dinner. We enjoyed the following dinner service:
First Course
Seaweed and charred cabbage salad, puffed wild rice, sprouted lentils, crunchy seeds
Second Course
Ocean wise smoked salmon ceviche style with micro cilantro, cold pressed canola oil fried sourdough croutons, citrus
Third Course
7K Ranch grass-fed longhorn beef slow cooked with poplar bluff potatoes and heirloom carrots in a and rosemary jus and Curry quinoa and lentil risotto with vindaloo curry and coconut milk
Dessert Course
Cheesecake bites topped with foraged berries preserve; Platters of small farm fruits from around the world; and, Mini assorted cupcakes
My personal favourite dishes from the menu were the Smoked Salmon Ceviche which was bright and full of flavour; the 7K Ranch grass-fed longhorn beef which you didn't even need a knife to cut it as it was so tender; and, the curry quinoa and lentil risotto which was a dish I've never had before but now want to figure out how to make as the flavours were warm and comforting.
I found that with each new course, the food itself lent well to conversations. We talked about where the ingredients that were in the dishes were from; would we consider using these ingredients in the future; are there better food decisions we could make going forward in terms of food sustainability; and, what could we do as homecooks to help address the global food challenge of food security.
There was clearly care put into the menu (by the team at Charbar) but also in who was sitting at each table to stimulate conversation.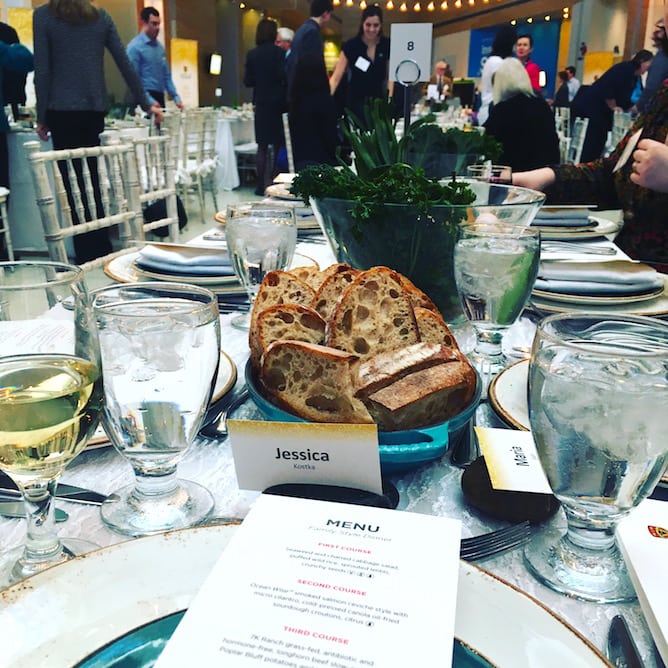 One of the wonderful pieces of the event was how the leftovers of food were going to be handled – all of the table scraps would be picked up by Eco-Growth, who would re-purpose them into biofuel and Charbar, the caterer for the evening, would donate unused leftover foods to various local agencies so that there was no waste.
I came away from the evening inspired to have similar conversations with family and friends. There is something magical that happens when you sit down with others to connect over food.
Moving forward, I feel very motivated to be more conscious of my food choices and how we can all contribute towards the global challenge of feeding 9 billion people by 2050.
I'm so grateful for having had this opportunity to participate in this event and look forward to continuing this conversation over dinner parties to come.
Until the next cooking adventure,
Jess