Hand's up if you want Banana Coconut Breakfast Cookies for breakfast!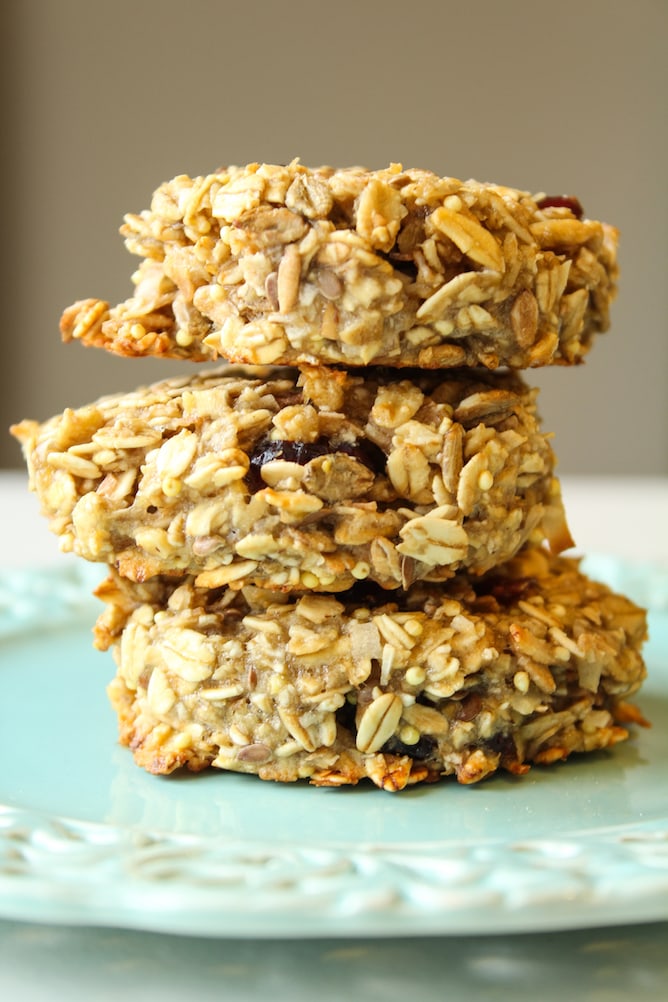 By now you may have realized that I LOVE breakfast and thoroughly enjoy baking breakfast goodies.
When Sam (from Sugar and Sam Blog) and I got together to bake our second creation using Rogers Foods products, it didn't take us long to decide on our recipe. It went a little something like this:
'Have you ever wanted to make breakfast cookies!?'
'All of the YES!'
And so our Banana Coconut Breakfast Cookies recipe was born! Filled with a ton of delicious breakfast ingredients including bananas, toasted coconut, and Rogers Foods Granola and Oats. The recipe is easy to whip up in the morning and fill your house with that homemade, baked cookie goodness that you can eat for breakfast!
Total time: 1 hour
Servings: 20-24 cookies
Equipment: baking sheet, parchment paper
Ingredients:
3 bananas, mashed
1/3 cup unsweetened applesauce
1 egg
1 tsp vanilla
2 tbsp honey
1/2 tsp baking powder
1/2 tsp baking soda
1/4 tsp salt
1 cup sweetened coconut, toasted
2 cups, Rogers Porridge Oats & Ancient Grains
1 cup Rogers Large Flake Oats
1/2 cup dried cranberries
1 cup Rogers 5 Grain Granola Hazelnut Honey Blend
Instructions:
Set your oven to a low broil, spread the coconut out on a baking sheet and toast 2-3 minutes or until golden brown. Once toasted set aside.
Pre-heat your oven to 350F and prepare a baking sheet with parchment paper.
Mash the bananas in a bowl. To the bananas stir in the applesauce, egg, vanilla and honey and mix well.
Next, add in the baking powder, baking soda and salt and mix well.
Then add in the toasted coconut, porridge oats & ancient grains, regular oats, dried cranberries and granola.
Scoop out the dough about 2 tablespoons at a time and place on your parchment lined baking sheet, keeping about 2 inches in between each cookie.
Cook's Note: You can also use an ice cream scoop for the cookie dough – one scoopful per cookie.
Press down slightly on each cookie to create a disc shape before placing the cookies in the oven to bake.
Bake for 15 minutes or until the cookies are slightly golden brown, then remove the baking sheet from the oven and let the cookies cool on the baking sheet for about 2-3 minutes. Then remove the cookies to a cooling rack.
Store these cookies in a sealed container for up to 5 days. You can also freeze them after they have cooled and take them out as you wish – they should last about a month.
It's been so much fun baking with Sam and getting to know her more! She is lovely, sweet and always has you laughing about something. I'm sure we'll be collaborating in the kitchen again in the future and if you missed our first recipe we created together, go check out our Almond Butter Squares (another baking win!)
Until the next cooking adventure,
Jess
Disclaimer: Thank you to Rogers Foods for sponsoring this post. Thank you for supporting the brands that I support. All opinions are my own.