Now that we've made our way into September I thought I'd ease into somewhat cooler temperatures with an easy salad full of kale, apple, cheddar and chickpeas so enter the Kale, Apple and Cheddar Salad with Spicy Chickpeas.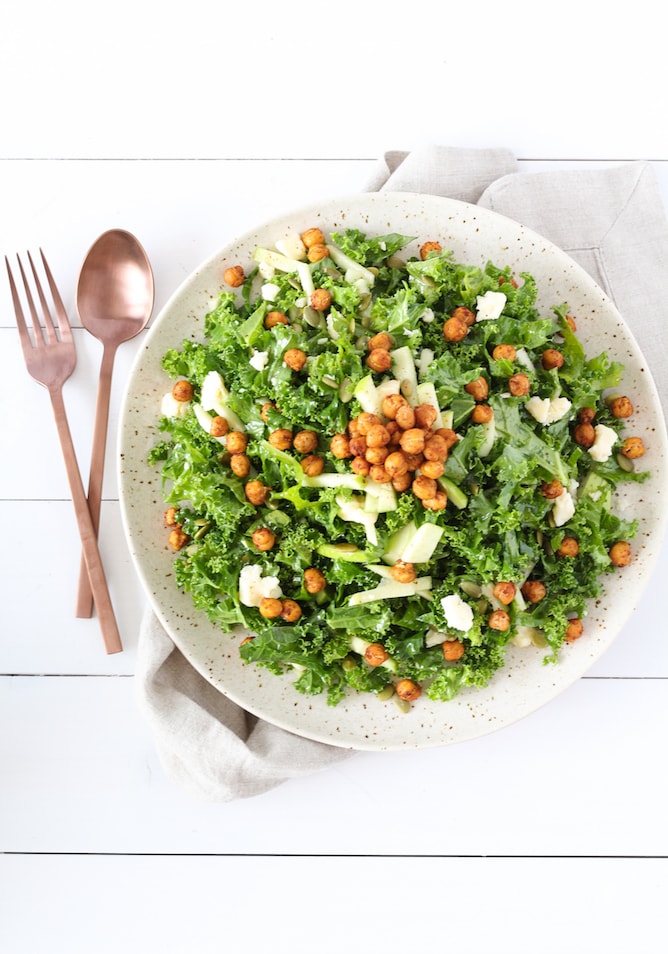 I was struggling with what to make for dinner this past week because I'm so ready to start cooking cozy autumn dishes but its still pretty hot here in Calgary. So, this salad hit all of my fall-inspired cravings (apple, cheddar, spicy chickpeas) but in a refreshing way with the crunchy kale.
The spicy chickpeas add the perfect warming note to this salad and you can even make this ahead of time, mix it all together and bring for lunch with the chickpeas on the side until you're ready to eat. This Kale, Apple and Cheddar Salad with Spicy Chickpeas is versatile enough to eat for dinner too and one to enjoy into the cooler weather.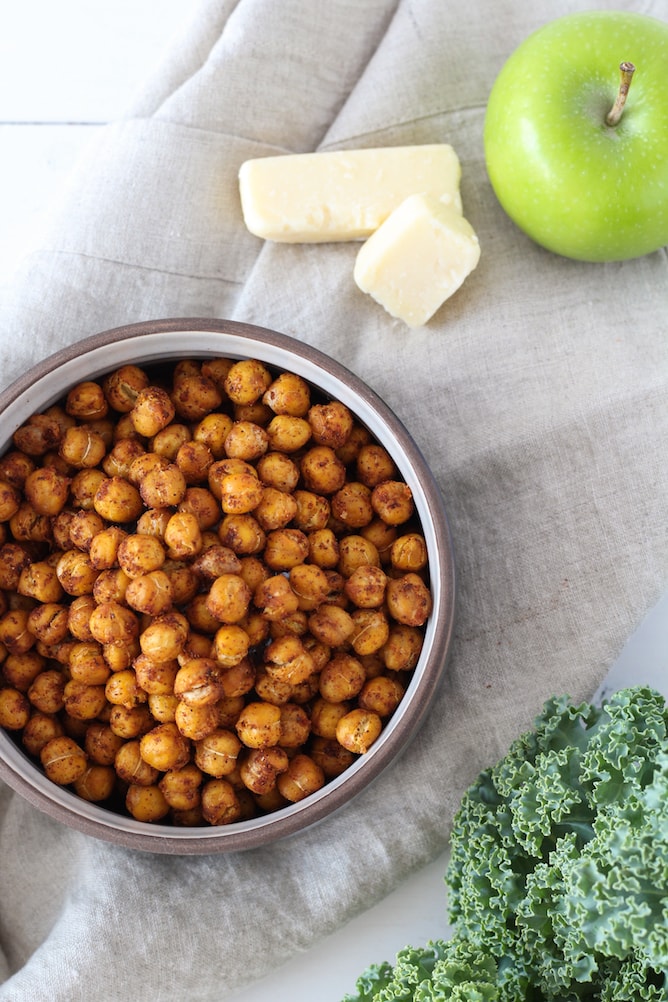 So grab those cozy ingredients and a fresh batch of kale – this salad is just waiting to be made!
Total time: 45 minutes
Servings: 4
Equipment: baking sheet, parchment paper, large mixing bowl
Ingredients:
1x 540ml can of chickpeas (drained, rinsed and patted dry)
6 cups (packed) of kale, chopped
1 granny-smith apple, sliced thin
1/4 cup pumpkin seeds
1/2 cup old cheddar, crumbled
1 tsp olive oil
1 1/2 tsp chili powder
1/2 tsp sea salt
1/4 tsp garlic powder
1/4 tsp onion powder
1/4 tsp paprika
1/4 tsp cayenne pepper
Dressing:
3 tbsp red wine vinegar
1/4 cup olive oil
1 tbsp honey
1 tsp dijon mustard
1/4 tsp salt
pinch pepper
Instructions:
Pre-heat your oven to 400F and line a baking sheet with parchment paper.
Drain and rinse the can of chickpeas, then pat dry between a couple sheets of paper towel. Transfer the chickpeas to the parchment-lined baking sheet.
Mix together your chickpea spice mix (chili powder, sea salt, garlic powder, onion powder, paprika and cayenne pepper).
**Cook's Note: If you want to turn down the heat level on the chickpeas, opt to use only an 1/8 tsp of cayenne in the spice mix
On your baking sheet, drizzle 1 tsp olive oil and gently mix the chickpeas on the sheet with the oil. Then sprinkle your season mixture over the chickpeas, rolling them around on the baking sheet until they are well-covered.
Roast the chickpeas for 15 minutes, then take out of the oven and roll around on the baking sheet. Then bake for another 10-15 minutes until chickpeas are crispy.
While the chickpeas are cooking, prepare the rest of your salad ingredients and the dressing.
When you are ready serve, mix the kale with the dressing only and then add in the apple, pumpkin seeds and cheddar and gently toss again. Top with the chickpeas and serve!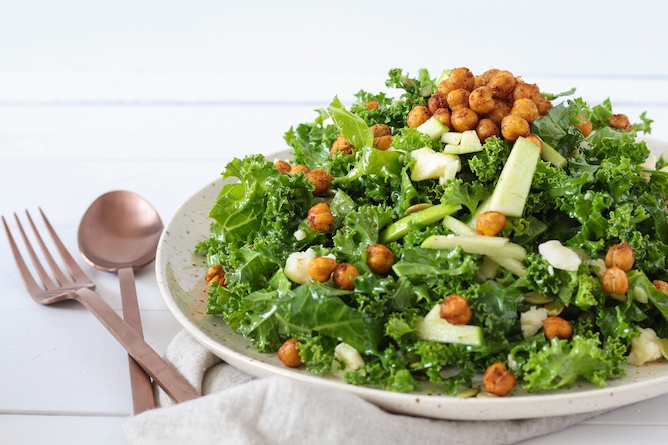 It's a perfect balance of crunchy, salty, spicy and fresh!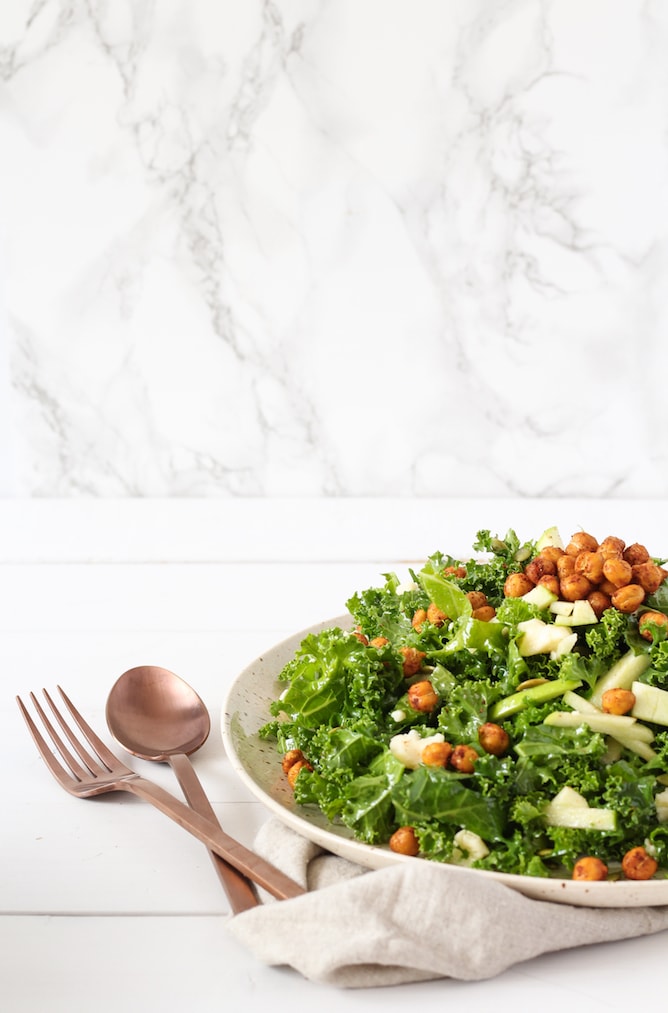 Until the next cooking adventure,
Jess