Apples, cinnamon, sugar, butter…is there a better combination?!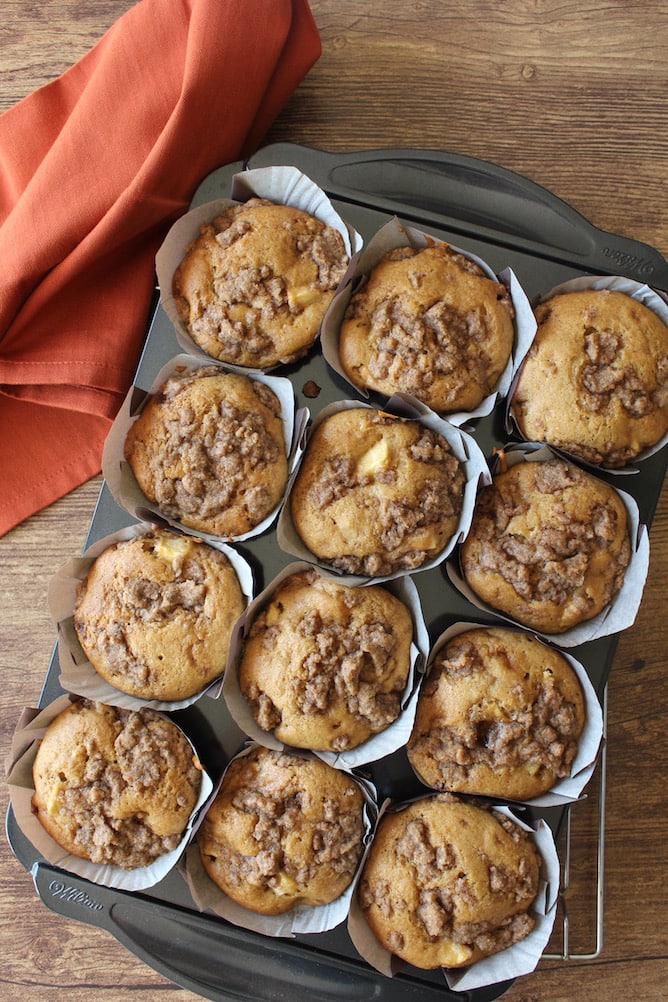 For as long as I can remember I have LOVED anything with apples – from desserts to pancakes to muffins, apples and cinnamon are a classic combination that I just adore.
My Mom used to make these muffins when we were growing up and they did not last more than a day (maybe two) in our house.
Just baking these muffins will give your house this lovely scent of home baked, cozy comfort which is especially lovely with the coolers days approaching.
These muffins are full of apples with a slightly caramel taste and the crumbled topping puts them to another level of deliciousness.  So here they are, Momma's Apple Muffins!
Prep Time: 30 minutes
Equipment: muffin tin, muffin/cupcake liners, 1 large mixing bowl, 2 smaller bowls
Servings: makes a dozen large muffins
Ingredients:
Topping:
1/2 cup brown sugar
6 tbsp flour
1/4 cup butter, melted
1 tsp cinnamon
Muffin Batter:
1 ½ cups firmly packed brown sugar
2/3 cup vegetable oil (I actually used avocado oil and it worked great!)
1 egg
1 cup buttermilk
1 tsp baking soda
1/2 tsp salt
1 tsp vanilla
2 ½ cups flour
2 cups peeled & diced apples (about 2 large apples, Gala or a firmer apple work well)
Instructions:
Pre-heat the oven to 325F.
Mix all of the topping ingredients with a fork and set aside.  Peel and dice the apples, set aside.
Combine the brown sugar, vegetable oil and egg in a large bowl – whisk until combined.
In a separate bowl, whisk together the buttermilk, baking soda, salt and vanilla.
Measure out the flour in a small bowl and then alternate adding the flour and buttermilk mixture into the brown sugar bowl, stirring until just combined after each addition to create your batter.
Once all of the flour and buttermilk mixture has been added, fold the apples into the batter.
Spoon the batter into your muffin tin and sprinkle the top of each muffin with the topping.
Bake for 30 minutes or until done.
These muffins will last about 2-3 days in an airtight container (if they're not all eaten by then!)
I even like them better the second day when the crumbled topping has softened a bit.
Until the next cooking adventure,
Jess