Well friends I can hardly believe it's December!
While this year at times felt extremely slow I found the last couple months went quickly.
But, we're about to enter my absolute favourite time of year! Even though things are going to be pretty different when it comes to celebrating the holidays, I'm sharing with you my favourite December recipes and some extra holiday cheer!I am in FULL holiday cookie baking mode; what about you?? I've been putting on Christmas movies while baking too. Elf and The Holiday are two of my absolute favs!

December is also the best time to cook recipes with cranberries! You can make cocktails, desserts and jams just to name a few. I like to buy fresh cranberries and freeze them so I can have them at my hands in the kitchen when a cranberry recipe strikes. If you're a cranberry fiend like me, here are few favs this time of year:
Kombucha Cranberry Bourbon Smash
Cranberry Orange White Chocolate Fudge from Broma Bakery
Cranberry White Chocolate Rolls from Crumb Top Baking
No-Bake Mini Cranberry Cheesecakes
Need some more holiday treat inspiration? A couple of years ago I shared this holiday cookie box AND stay tuned as I have an updated one coming very soon!
So, what else in season to make in December?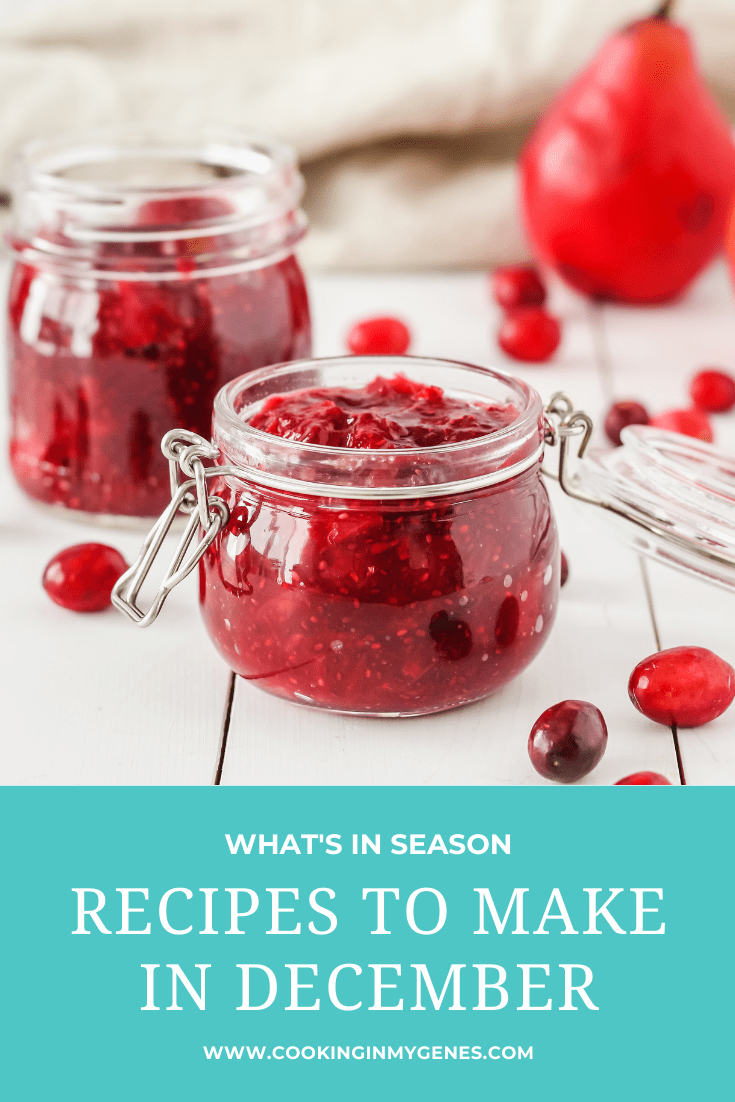 Brussels Sprouts: Sheet Pan Roasted Carrots, Brussels Sprouts and Potatoes
Cranberries: Cranberry-Pear Chia Seed Jam
Citrus: Citrus Vodka Crush
Lemon: Lemon Squares
Pears: Baked Pears with Cardamom Cream
Spices: Spiced Winter Punch
Depending on where you live you might be like me with restrictions on getting together in person. SO, here are a few of my favourite ideas to make holiday weekends more festive as we stay home more:
Cozy day or night at home: Create my hot chocolate bar to share with your family, partner or friend and have a cozy afternoon or night in. Go old-school with some board games or watch all your fav Christmas movies! Or even take your hot chocolate to-go for a walk around your neighbourhood to see Christmas lights.
Online cooking class: If you're in the mood for some 'online' cooking fun, I'm hosting a FREE cooking class with Wine, Women & Wellbeing on Thursday December 10th! We're going to make a really simple appetizer and you can register here for free to join in.
Get crafty: Brit & Co. is offering a selection of their classes for FREE until the end of the year! Grab some supplies and get crafty one afternoon.
I hope you have a lovely holiday season this year.
Until the next cooking adventure,
Jess